The formation at the seminary
While the Community of Saint Martin defines itself as being totally at the service of bishops and dioceses of the universal Church, it has its own House of Formation. For six years, under the leadership of the priests in charge of the formation, the seminarians seek to discern and develop their vocation for the service of souls.
Because of the fraternal life specific to the Community, the formation has a specific colour that involves acquiring three habits :
1). First of all, it is necessary to learn to life under the same roof, to pray together as well as sharing an apostolic mission, in order to exercise the munus sanctificandi, that is, the mission of the sanctification of souls.
2). It is also necessary to know how to listen, to the Word of God to begin with but also to the magisterium of the Church, in order to be able to pass on a word, an example, a service to others; this permits the exercise of the munus docendi, that is, the proclamation of the faith.
3). Finally, it is necessary to learn to depend upon one another, in order to exercise the munus regendi, the mission of governing.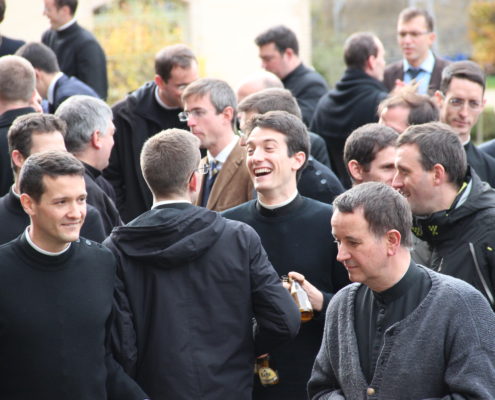 The Propaedeutic Year
The "Year of Saint Martin": The Community of Saint Martin proposes a propaedeutic year
The new Ratio of the formation of future priests, published in the end of 2016, prescribes that every entry to the seminary should be preceded by a propaedeutic year, and rends thereby systematic and universal a mode of operation already largely spread. Without waiting for the new Ratio to come into force, and after having presented its project to the Congregation for the Clergy, the Community of Saint Martin introduced its own a propedeutic year ad experimentum for the September 2016 entry, called "Year of Saint Martin". The main particularity of this "Year of Saint Martin" is to be a propedeutic year adapted to the specific character of the Community of Saint Martin. The young men who participate in this year of pre-discernment, benefiting at the same time from a supervision and a place dedicated to them, follow a course articulated around four major axes: apprenticeship of the fraternal life in common in the way it is lived in the Community of Saint Martin; the initiation to the spiritual and liturgical life (including, among other fundamental elements, lectio divina and a continued reading of the Bible, mental prayer, personal spiritual direction and the discovering of the character of Saint Martin); the beginning of the basics of the intellectual formation (introductory courses, catechetical education, general culture, working methods, etc.) ; and finally, through experiences of charity works, initiation to the apostolate and retreats, they can deepen their vocational discernment. At the end of this "Year of Saint Martin", the young men who have decided to do so will make an official application for admission to the House of Formation of the Community of Saint Martin.